Title: Choices
Author: Eolane
Publisher: AuthorHouseUK
ISBN: 978-1-5246-3246-5
Pages: 180
Genre: Fiction, Mystery
Reviewed by: Ella Vincent
Buy on Amazon
Pacific Book Review Star
Awarded to Books of Excellent Merit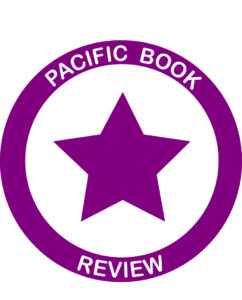 Choices is a compelling novel that has action, adventure, romance, and even supernatural elements. Choices is the second book in The Jewel Chronicles series, but can be a standalone novel. Author Eolane's book is one that readers will love if they're looking for an intellectual and emotional read.
Choices tells the story of Amber, a State Department investigator that is haunted by a traumatic attack when she was younger. She recovers with the guidance of the ghost of her Scottish Great-Grandmother. Amber moves on by throwing herself into her work in San Antonio and into a romance with Reynaldo, an FBI agent. However, events turn tragic when a Saudi pilot she is supervising in a military program is accused of murdering his girlfriend. Amber has to solve the murder case with evidence – and the help of her Great-Grandmother's spirit.
Choices is a novel that has many well-developed characters, especially Amber. She is a protagonist that is strong enough to deal with her male co-workers in the hardened world of the government and military. However, she is also sensitive when dealing with her emotional attachment to Renaldo and the women of San Antonio she has to protect. Reynaldo is a sensitive partner to Amber and is a complex romantic counterpart to Amber. The supernatural character of the spirit of Amber's Great-Grandmother adds a spiritual element to Choices and depth to Amber's character because she hears the spirit during challenging times in her life.
This book not only has engaging characters, but settings as well. Eolane writes about the vibrant Tex-Mex culture of San Antonio so vividly, readers will feel like they're on the city's famed Riverwalk. Eolane also writes sensitively about the different cultures in the novel, like Amber's Scottish heritage and Reynaldo's close-knit Latino family. Eolane traveled around the world and easily captures the differences between Mexican, American, and Middle Eastern cultures in Choices.
The novel would be best for fans of mystery or military mystery novels. Fans of Sue Grafton or Tom Clancy will love the suspense of Choices. Even fans of romance novels can find interest in the love story of Amber and Reynaldo. The fast-paced action of this mystery in Choices is also balanced by the tender moments between Amber and Reynaldo's family.
Choices is an excellent novel that will leave readers wanting more. Eolane has written a novel that will make readers want to join Amber in her world.