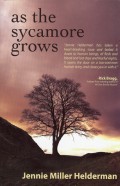 Title: as the sycamore grows
Author: Jennie Miller Helderman
Publisher: The Summers Bridgewater Press
ISBN: 9780982773208
Pages: 360, Paperback
Genre: Non-Fiction Narrative/Biography
Reviewed by: Barbara Miller, Pacific Book Review
Book Review
W
hat began as a writing assignment for Jennie Miller Helderman of a mere few thousand words, became a life altering episode within the private lives of Ginger and Mike, two real people immersed within a vortex of emotional and physical abuse. In her book, titled in lower case, as the sycamore grows, Helderman candidly and objectively brings to light the details of the lives of others to the reader's attention in a cold, brutally honest and real format. She does not hold back on events and thoughts, both private and disconcerting, and in doing such creates a dichotomy of reading experiences; half of me felt like throwing the book out the window in anger by the actions of Mike while the other half of me couldn't put the book down wondering just how Ginger will cope and get through all of this.
To best explain the reality of Helderman's writing, here's an excerpt I felt very emotionally charged when reading:
"If you don't rein yourself in, I'm going to slap you." The smoke curled around his words. "I'm sure you will," she said, chin out. He narrowed his eyes, focusing on Ginger as if he were sighting a rifle. Five steps it took to cross the room, fast, heavy steps. When he reached Ginger, he swung his arm down and smacked her jaw with the full force of his open hand. A man-blow that rocked her jaw.
She staggered backward against the couch, her skull reverberating. Tears washed down her cheeks, but she was too shocked to notice them. He'd never hit her before. No one had ever hit her. This pain was new. It took her breath.
Needless to say I began trembling due to the realism while holding the book. The build up, and eventual therapy and resolution to this incident beckons the reader to witness the events as Jeannie Miller Helderman humanizes Ginger and Mike; at times demonizing their actions then equivocating to loving emotions, poetry and kindness. A juxtaposition of love and hate, real and surreal, Helderman honestly portrays the obviously controlling actions and words of Mike. Love it or hate it, one thing is for sure, you'll never forget this story.
What struck me, a bit by surprise I might add, is following the galley text of the book; Helderman has a series of actual photographs of Mike and Ginger, along with the children Cody and Casey. Looking into the eyes of the devil, and seeing the pretentious smiles masking the turbulence imprinted an indelible image in my mind of deceit along with the complexity of dysfunctional behavior. Further inserts to her book incorporated actual copies of legal restraining documents from the State of Tennessee, along with affidavits written in their own handwriting.
Jennie Helderman cleverly states in her book the Christian philosophy of staying with your man and praying hard that the abuse will go away can actually be counterproductive and create a more toxic relationship. I appreciated how forthcoming she was about sharing some very intimate details about her life. I feel as the sycamore grows will definitely be a catalyst to helping other people in the same position. I certainly recommend this to the reader that is prepared for the journey, the real life story of real people caught in the whirlwind of a heritage of abuse within their family tree. It takes strength and fortitude to grasp this book and then a bold step to open it.
I would recommend as the sycamore grows for anyone who is (or has been) in an abusive relationship. I would also strongly advocate this book for anyone who counsels people that have been in abusive relationships or have been accused of being abusive. This book will be painful to read but absolutely necessary to get the victim on the road to safety.