PACIFIC BOOK AWARDS 2017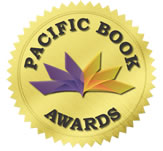 WINNERS & FINALISTS 
Best Book Cover Design Fiction
1. Feathers from Icarus – By: Bob Hodges
2. The Case of the Ex Who Plotted Revenge – By: Georgann Prochaska
Best Book Cover Design Non Fiction
1. The Trust about Cancer – By: TY M. Bollonger
2. Your Happy Genes – By: Dawson Church
Best Arts & Entertainment
1. Spots and Dots – By: Chez Picthall
2. Cats & Quilts – By: Jason Hamilton
Best Adventure
1. The Staff of Moses – By: Summer Lee
2. Shadow Game – By: Darryl Sollerh
Best Biography
1. Thomas Jefferson – From Boy to Man – By: Jayne D'Alessandro-Cox
2. Life on the Farm – By: Stanley J. Scherr
Best Business
1. How to Start Your Own Business – By: Daniel M. Hill
2. Owning Main Street – By: Patrick Pappano
Best Children's Illustrated
1. Pepe Builds a Nest – By: Theodore Jerome Cohen
2. The Adventure of Zealy and Whubba – By: Roe De Pinto
Best Children's Picture Book 5 and Younger
1. The Railroad Adventures of Chen Sing – By: George Chiang
2. Whack, Whack, Whack, Goes the Tail! – By: Mark Rouillard
Best Children's picture book 6 and older
1. The Fog – By: Kyo Maclear
2. The Great Treehouse War – By: Lisa Graff
Best Comedy & Humor
1. Fun & Games – By: David Michael Slater
2. What I've Learned – By: Christopher T. Heist
Best Cookbooks
1. Bangkok– By: Leela Punyaratabandhu
2. The Blossom Cookbook – By: Ronen Seri
Best Current Events & Politics
1. Let There Be Spring– By:  Lofty Basta, MD, FRCP, FACC
2. 5 Rockstars of American Revolution – By: Christina Frei
Best Education
1. That's Special – By:   Dan Henderson
2. The Little Book of Restorative Justice in Education: Fostering Responsibility, Healing, and Hope in Schools (Justice and Peacebuilding) – By: Katherine Evans & Dorothy Vaandering
Best Fantasy
1. Flame in the Mist– By:   Renée Ahdieh
2. Maya Rising – By: Melissa Roen
Best Fiction
1. Remembrance of Blue Roses – By:   Yorker Keith
2. Broken Places – By: R. Anthony Martin
Best Health
1. Toxic Food Nation – By: George M. Burnell, MD
2. Changing You – By: D. Cole Clifford
Best History
1. Let There Be Spring – By: Lofty Basta, MD, FRCP, FACC
2. Rational Polemics:  Tackling the Ethical Dilemmas of Life  – By: Richard Todd Devens
Best Historical-Fiction
1. '290' Volume II: The Laird Ginboat – By: Donn Wonnell
2. Orchids of War – By: Denise Frisino
Best Humor
1. Those Crazy Notions of Otherwise Intelligent People – By: Joel Michael Dorr
2. Groovy Times – By: Lance Smith
Best Inspirational
1. 10 Messages Your Angels Want You to Know – By: Doreen Virture
2. The 7 Most Powerful Prayers That Will Change Your Life Forever – By: Adam Houge
Best Memoir
1. Fused: A Memoir of Childhood OCD & Adult Obsession – By: Dr. James Manning
2. Storm in a Teacup – By: Captain Paul Green
Best Mystery
1. Key West Interlude – By: Lois Richman
2. Hospital Hill – By: Katherine Anderson
Best Non-Fiction
1. The Rise and Fall of Paradise – By: I. K. Fleming
2. Beyond Deportation: The Role of Prosecutorial Discretion in Immigration Cases – By: Shoba Sivaprassad Wadhia
Best Paranormal
1. Fire and Frost – By:  Alicia Rades
2. Angel Unborn: By: Andris Bear
Best Paranormal
1. Fire and Frost – By:   Alicia Rades
2. Angel Unborn: By: Andris Bear
Best Parenting & Family
1.The 5 Languages of Children – By:   Gary D. Chapman and Ross Campbell
2. The Home School Advantage: A Public Schoolteacher's Case for Homeschooling – By: John Evans
Best Pets
1.Sobaka: Finds a Home – By:   Becky Williams
2. Smoky the Cowhorse – By: Will James
Best Philosophy
1. Seinfeld and Philosophy: A Book about Everything and Nothing – By:   William Irwin
2. Philosophy of Fearism – By: Desh Subba
Best Psychology
1.What Would Mary Ann Do?: A Guide to Life – By:   Dawn Wells
2. One Good Life: My Tips, My Wisdom, My Story – By: Jill Nystul
Best Poetry
1. Brightness from the Shadows – By:   Jon M. Nelson
2. The East Deck Motel and Selected Poetry – By: Theodore M. Wandzilak, M.D.
Best Reference
1. Gardening Like a Ninja: A Guide to Sneaking Delicious Edibles into Your Landscape – By:   Angela England
2. Reference Guide for Essential Oils – By: Connie and Alan Higley
Best Relationships
1. Roots and Fences – By:   Sharon Gregory Duncan, EdD
2. Building Better Humans – By: David and Lisa Davoust
Best Religion/Spirituality
1. 7 Secrets to Power Praying: How to Access God's Wisdom and Miracles Every Day – By:   Jane Glenchur
2. Hearing God's Voice Made Simple (The Kingdom of God Made Simple) (Volume 3) – By: Praying Medic
Best Romance
1. When Dimple Met Rishi – By: Sandhya Menon
2. Looking Glass Friends: A Novel Inspired by Real Love Letters – By: E.L. Neve
Best Science Fiction
1. When Planets Fall– By:   Abby J. Reed
2. Crewe Chase and the Jet Reapers – By:  E. Sisco
Best Self-Help
1. Sacred Six: The Simple Step-by-Step Process for Focusing Your Attention and Recovering Your Dreams – By: J.B. Glossinger, M.B.A, Ph.D.
2. Your Life in Color: Empowering Your Soul with the Energy of Color – By: Dougall Fraser
Best Short Stories
1. A Familiar Face: And Other Stories – By: Scotty Weeks
2. Transit Dreams –By: Antonio Simon, Jr.
Best Sports
1. Game Changer: John Mclendon and the Secret Game – By: John Coy
2. Duel for the Crown: Affirmed, Alydar, and Racing's Greatest Rivalry –By: Linda Carroll and David Rosner
Best Suspense
1. A Grave Calling – By: Wendy Roberts
2. The Chalk Pit – By: Elly Griffiths
Best Thriller
1. The Long Drop – By: Denise Mina
2. Bird Box– By: Josh Malerman
Best Travel
1. Murder In Matera: A True Story of Passion, Family, and Forgiveness in Southern Italy – By: Helene Stapinski
2. Travel Stories and Highlights– By: Robert Fear
Best Young Adult
1. Dragon's Green– By: Scarlett Thomas
2. Aramid– By: Paul Haddad
Best Westerns
1. Six Months in Montana – By: Pamela M. Kelley
2. High Plains Ambush: A Western (The Blood on the Plains Western Series Book 1) – By: John D. Fie. Jr and Bruce G. Bennett