Title:  Good Globe: Time for A Change of Hemisphere
Author:  Shelby Simpson
Publisher:  Drunk Publishing Inc., 2015
ISBN: 978-0996856607
Pages: 363
Genre: Travel, Non-fiction, Memoir
Reviewed by: Suzanne Gattis
Buy on Amazon
Pacific Book Review
One might ask, is it better to search out that experience of a lifetime, or to live a lifetime of experiences? According to Shelby Simpson's
Good Globe: Time for a Change of Hemisphere
, the answer is, quite simply, both. Armed with a passport and some bravery discovered deep from within, Simpson takes the reader along with her as she embarks on a journey of epic proportions. I found her take on the world as told in this book to be refreshing, hysterical, and educational all at the same time.
I should start by stating the obvious that reading this book made me want to go straight to my closet and pack a bag. As a frequent traveler myself, I found her courage to go and actually live in other parts of the world inspiring. I have a strong belief, which was reiterated throughout these pages, that people need to see other parts of the world to appreciate and understand their own lives. It is a shame that many people never get to leave their own borders and get a different view on this great big world. I think if everyone had that opportunity our world might be a happier, more accepting place.
Good Globe is about more than just interesting places. It's also about the smaller stories she weaves along the way: the mishaps, the friendships, the heart aches, the adventures. Simpson treats the reader as if she is inviting them into her inner circle, navigating through her journeys with commentary, encouragement, and at times brutal honesty. Amidst the discussion of all the mystery and the magic of the world around us, there was actually a lot of solid advice to live by contained in this book. Take a chance. Let go of your inhibitions. Get to know others around you. It is a self-help book of the 21st century.
I enjoy Simpson's writing style. I felt like I was talking to a lifelong friend with her conversational style. The book was both enjoyable and easy to read. I especially enjoyed her travel gain and loss list that she included before each section. It organized the book well and made the stories fit together in a logical sequence.
Simpson's take on the world and the adventures around her is no-holds barred. She tells it as it is, with all of life's embarrassing moments and splendid wonders. This book sparks your imagination and encourages you to see the world from a different perspective. Well done!
A million things bind us to the repetitive drudgery of our every day lives. Our imagined confines breed a horde of excuses that keep us from stepping outside of the usual, the monotonous, and taking that final step needed to start our travel dreams—the long-term vacation, living overseas dreams. This is a true story of what happens when comfort stays on the tarmac and fades into the distance like a forgotten canvas duffle bag. This is about making sure the bucket list gets completed tomorrow. Throughout her life, Shelby Simpson has abandoned monotony in search of the next great adventure. She has visited 39 countries and lived in seven—traveling from the surreal beaches of Fiji to the winding halls of a Bolivian prison, and to dozens of locations in between. Each new destination reveals a new story, a tasty local cocktail, and a piece of a powerful truth: Fear is the only barrier to discovering that people are really all the same. This book is a glimpse at the wonders we can discover when we find the courage to take that first step to travel outside of our comfort zone. There are belly laughs, panicked gasps, and awed silences to be had in every corner of this magical globe. All it takes is a little gumption, a shot (or five) of vodka, and the goodness inherent in people everywhere.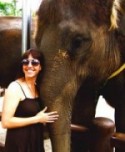 Shelby Simpson was born and raised in Enid, Oklahoma until leaving to attend college in Arizona at age eighteen. During her time in Flagstaff, she took out a loan to study overseas–a decision that would launch a ten-year travel career. She believes in treating her body like a temple Monday through Friday and a carnival Saturday through Sunday. Rugged nature is her happy place, with a solid dance session (to throwback hip-hop jams) on an LED dance floor as a close second. She is currently working on fitting five lifetimes into one.
Author Interview with Shelby Simpson
Today we are talking to Shelby Simpson author of "Good Globe."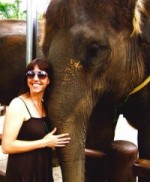 PBR:  What is the favorite place you have visited and why?
Oddly, or maybe not oddly, that's what every single person who wants to talk to me about my travels asks me, and I still don't have an answer. There are too many factors—for me—that make a location great: weather, history, food, topography, natural wonders, exoticness (pretty sure I just made that word up), weird things to do, and the people…the peeps. Usually, I end up saying New Zealand is my favorite place, because it has the most things in that list, and because I absolutely love the Kiwis. There's something about Kiwis and their country that crawled inside my soul and hugged it. I felt it as soon as I landed. It stayed with me while I lived there. It's still in me even though we're 7,793 miles apart. The people of NZ took it to #1 on my list. THEY. ARE. DOPE.
PBR:  Did someone you know inspire you to travel? If not, what motivated you?
My badass momma. She's the genetic gift giver of my passion for adventure and all things unusual. She was the push behind my family taking vacations twice a year when I was growing up. Each winter we'd go skiing in Colorado, and every summer, we'd go somewhere with a beach. My dad is a beach junky and has mad love for Disneyland, so California was usually our summer hit, but we did go places outside the USA. I was lucky. I got to see places that really spun me out—places wayyyy outside my comfort zone: Curacao, Barbados, destinations in the Caribbean and the Bahamas, but we always stuck to those regions. I think anything farther bothered my dad. So we'd stay close, but go as far as possible, and we'd only go away for seven days. While away, we never signed up for tours. We explored on our own and found bizarre things to do—all fueled by my mom.
But, no one I knew ever lived overseas. No one traveled long-term. I wanted to do that, because I was obsessed with foreign language since I was a kid. And that's what took me overseas for the first time to another continent, and for the first time to LIVE in another country.
I lived/studied in the Basque Country of Spain for one year during my undergrad to learn Spanish. I was twenty. I took out my first loan to make it happen. That in itself was quite a funky deal—a twisted and funny tale of mishaps, but there's not enough space here to explain the details. Let's just say both my parents refused to co-sign it, but I finally made it happen.
But when I boarded the plane to Bilbao, I wasn't totally excited, because I thought the loan actually hadn't gone through. I'd been told it hadn't, but I boarded the flight anyway. I only had about two hundred dollars to my name, and that plane ticket. That was it. But I thought if I got to Spain, then from there I could confirm if it had or hadn't gone through, and if it hadn't—I'd just hang out until I could figure something else out. Plus, I figured if all else failed, I always had that plane ticket to get me home.
So yeah, I boarded that flight without knowing exactly what was going to happen when we landed. And as I sat down in my seat and settled into my first time over the Atlantic, the young dude next to me leaned over and said, "I just ate a tab of acid."
That was the beginning of my trip, and literally his. When we landed, I found out my loan actually HAD gone through. High five! It was all gravy from there. Spain taught me not to be afraid and that if I wanted, I could keep going with a life overseas. Long-term travel was doable. Spain was my training wheel.
PBR:  What advice do you have for someone trying to find work abroad?
Don't be shy. Talk to people. Get creative in your job thinking and don't be picky or prideful. I was a cleaning lady for a bit and got free room and board. I washed dishes too. All worth it. And use any outlets possible: job boards in hostels, job boards in super markets, the internet, pounding the pavement. The best people to talk to about jobs are random locals. Find out how they get jobs, and ask if they have any ideas for you finding work.
Don't refrain from saying the things you need to say—the real things, like, "Can I please come work for you in exchange for room and board?" or "I really, really, need to find work fast, and I'm a dependable person who will do a great job for you. So can you give me a chance, pretty please?"
Overall, you should search for a job overseas in the same way you would back home, but always keep in mind things might work differently wherever you are, hence talking to the locals. But other than that, you should:
o SMILE
o Wake up early and start your hunt before the other backpacker-slackers do. They'll sleep in, nursing their hangovers—as you should. On the weekends, after you get employed.
o Send out your resume daily, or go hunting daily. ALWAYS GO IN AND TALK TO PEOPLE. Face-to-face interactions show just how much you want to get employed. It's the opposite of lazy, and people hate lazy worldwide. Hitting the pavement always helped me. I called too. I followed-up. I was relentless.
o You should be relentless too. You have to be. And the good news is if you're like that, and if you do all the things I've listed above, you'll find some kind of work—guaranteed. I promise.
PBR:   Is there a reason in particular why you were so honest in sharing your experiences with the reader, the good and the bad?
Yes. I want to give back. And I knew if I wasn't honest, my story might not touch anyone, and I want people who want to travel the planet TO GO. GET OUT THERE. DO IT NOW. And I want them to know they can. You don't have to be rich, or brave, or knowledgeable, or anything at all. You just need to stop thinking so much and take the leap. And when you do, you'll be astounded. The world is more amazing than any computer or book could ever show you. You'll never regret it. You are here now, but you won't be forever. So invest in travel happiness soon.
Go. Please.
PBR:  If you had to add another bullet to your gains/losses list, what would it be?
GAIN
o Perspective.
o Better understanding of the truth you've been taught and the lies you've been fed.
o Regularly occurring moments you haven't had since you were a kid; the wonder of seeing, touching, smelling, and actually feeling a brand new experience.
LOSS
o Your favorite t-shirt. My sloth t-shirt—aka my party shirt—had two armpit blowouts, one serious bleach stain, and too much humidity-thinning to survive one more day. RIP slothy.
o A lackluster version of young adult life.